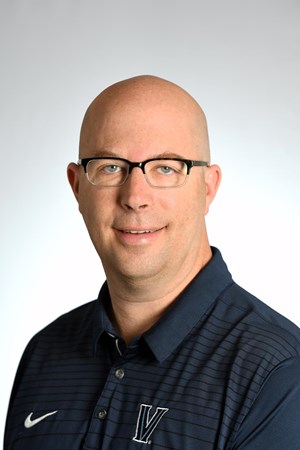 Head Coach
Josh Steinbach
Josh Steinbach will begin his 14th season at the helm of the Villanova volleyball program in 2020. His career-record of 201-165 (.549) stands alone as the most victories among head coaches in history of the program.
In the 2016 season, the Wildcats went 18-13, 9-9 in BIG EAST play and finished 6th in the conference. Junior outside hitter Allie Loitz was named to the 2016 All-BIG EAST first team after an outstanding season, leading the team in kills (347), kills/set (3.58), points (412.5), points/set (4.25), serve assists (36) and serve assists/set (.37).
Steinbach was named the 2015 AVCA East Coach Region Coach of the Year after coaching the Wildcats to a 25-9 record, earning the program's second-ever NCAA Tournament bid. Villanova's 25 wins in a season were the most in a season since the 1993 team won 26. The 2015 squad went 14-4 in the BIG EAST and finished in second place on the season, its highest finish since 1997. He currently ranks fourth among active BIG EAST head coaches in wins.
Following the 2015 season, three Wildcats landed student-athletes on the BIG EAST all-conference teams, with current junior Allie Loitz and 2016 graduate Emma Pettit earning first team, while fellow graduate Gabby Pethokoukis would be named to the second team. Emma Pettit is currently ranked third all-time in assists (3,791) and sixth in assists/set (9.05) Loitz led the team in kills (419), kills/set (3.43), and service aces (48) last season while Pethokoukis is ranked in the top-10 all-time in block assists (seventh), total blocks (ninth), has numerous single season records as well.
While successful on the court, Steinbach's teams have always performed well in the classroom, earning the AVCA Team Academic Award nearly every year since he has been a head coach. The Wildcats are currently on a nine-year streak of earning the AVCA team All-Academic award, and have earned the award 13 times total.
He was the BIG EAST Coach of the Year in his first season at Villanova and has developed the program into one that is capable of being consistently successful in the BIG EAST Conference.
Steinbach has seen his Wildcats earn seven AVCA All-Region honors while being named All-BIG EAST selections 13 times. Maroon is the only three-time all-region honoree in program history and earned that distinction three straight years from 2009-11. She was joined on the All-Northeast Region team by teammate Maggie Mergen in 2010, while Cherkez previously earned the honor in 2007. The BIG EAST honors for Villanova since 2007 have included six All-BIG EAST first team selections, seven second team picks and more than 45 weekly award winners. Maroon and Mergen each were first team selections in consecutive seasons in 2010-11.
The start of Steinbach's tenure at Villanova was an extremely successful one, as he led his 2007 squad to a 17-12 record, a 9-5 mark in BIG EAST play and the No. 3 seed in the BIG EAST Championship. He was named the BIG EAST Coach of the Year for his efforts and the Wildcats had multiple players selected to the all-conference first team for the first time in 15 years.
There has been no shortage of record-setting performances under Steinbach's watch. Maroon surpassed 2,000 career digs as a senior and her 2011 season total of 749 digs stand as the BIG EAST single-season record. Cherkez, meanwhile, set a single-season school record with 642 kills in 2007. In addition, Mergan and Morgan Petkovich each surpassed 1,000 career kills during the 2011 season. The volleyball student-athletes have also continued to be successful in the classroom during Steinbach's time as head coach. Villanova has received the Game Plan/AVCA Team Academic Award seven times, while the Wildcats have had a total of 51 selections to the BIG EAST All-Academic Team since 2007.
Most recently before coming to Villanova, Steinbach was the assistant coach at Wright State from 2005-07. His responsibilities there included serving as recruiting coordinator, overseeing the team's video breakdown of opponents and on-court coaching duties. Prior to his Wright State experience, Steinbach was an assistant at the University of Cincinnati from 2003-05. He has also held assistant coaching positions at Penn State and San Diego Mesa Community College.
Steinbach played collegiate volleyball at both San Diego Mesa Community College and George Mason University. After earning his Associates Degree from San Diego Mesa Community College in 1999, he earned a Bachelor of Arts Degree in English from Penn State University in 2002.
A native of State College Pa., Steinbach has two sons, Bennett and Carson.